If you have a business, you need to establish an online presence for your business. It is as simple as that. Starting an online business might take months and months of planning and compromises.
However, with the right tools on your hand, setting up and managing the online business is not as bad as it might look. Just starting up the business looks like there's a long way ahead before your business flourishes on the market.
You can speed up the growth process if you are willing to give some time on researching the correct web host for your business.
Yes, it might not seem like when you are just starting, but the web host is one of the important things you need to look at before committing to one. 
When you invest in something like your online business, you should look at everything including features, price, premium versions, and many more.
This article will give you a head start to make a choice on one of the best web hosts among the hundreds you can find in the market. 
What is web hosting?
Web hosting, in simple terms, refers to how and where your online business lives on the internet and is managed. Web hosts provide their customers with a server, either shared, dedicated, or virtual to store your content (text or multimedia) to access it when someone visits your website.
You can choose the web hosting plans as per your convenience and the requirements of your online business. Your website can be accessed through the World Wide Web (WWW) on the internet. 
What should you look for while choosing business hosting?
To host your online business, before you commit to any one of them, you need to have your priorities straight. What is your online business looking for, what do you need to add on your website, and what is it that you can skip on?
These questions are what you should ask yourself and search for the ones that work the best for you and your business. However, there are few things that are a must-have in any business and should be offered by any web host.
If you are confused about what you want on your web host, you can look into these things first. You can migrate your website to other web hosts at your convenience as well. The list of things you should look at are as follows:
Uptime is the amount of time your website is online. Your website experiences downtime only when the server that hosts your website is under maintenance. Choosing a web host offering an amazing uptime is a very important task while choosing a web host. 
Another most important part of web hosting is the loading speed of your website. The loading speed determines whether your website loads faster in the google search engine or not. Your customer judges your website as soon as they land on your URL and time is money in this generation. So, choosing a web host that offers amazing loading speed needs to be your priority.
For a small business or a beginner, customer support is what you should be looking for. Along with customer support, you need to choose the web host that has a number of documentation and tutorials to help you out when you find yourself struggling. 
Best web hosts for small business
Finally, we arrive at the part where I let you in the pool of best web hosts for small businesses. All of these web hosts in the list below are something you can choose for your website but prioritizing what you need on your website is what you should be doing. 
Bluehost
For small businesses and websites, Bluehost has always been the best one in the business and is the default choice for most of the web owners.
First started in 1996 and renamed Bluehost in 2003, it sure knows what features the clients require to have been operating for a long time.
They will provide you with a customer service 24/7 and 365 days a year with the option of live chat, phone call, token system, etc.
The upgrade of the facility it offers to its customers is something to look for. When you are just a startup, you need to choose a plan that is much simpler but once your online business grows, the same plan won't work for your website.
Some of the web hosts make it really difficult to upgrade once you have purchased a hosting plan. But with Bluehost, you can upgrade to any plan as per your convenience in just a few clicks.
The features like an SEO tool to search a keyword and work on that is another plus point of Bluehost. 
Features 
Uptime: 99.99%

Loading Speed: 405 ms 

Good & quick customer support

Recommended by WordPress.org

1-Click installs for website builders

Cheap introductory cost
Website transfers are not free
Price: Starting at $2.75 per month
Hostgator
If you are looking for a web host to help you out with the loading speed as much as one can, then Hostgator Cloud plan might just end your search.
Hostgator is another popular web host that is popular among any business plan, however, it is feature-rich and beginner-friendly, making it the absolute best for small businesses.
With an extensive self-serving knowledge base, it also offers 24/7 customer support with the only phone and live chats, which might be enough.
Along with cloud plans to increase your loading speed, it also offers support in any plan you choose, no matter you choose a cheap or an expensive plan.
With the support of multiple plans, you can upgrade to any plan as per requirements. You can take advantage of its 45 days money-back guarantee to use and figure out if Hostgator actually helps you with your online business.
Features 
Uptime: 99.98%

Good Support

45-Day Money-Back Guarantee

Free Migration

Uptime Guarantee
Loading Time: 1,191ms

Extra Fee for 'True' Backups

Price: Starting at $2.25 per month
InMotion
If you are not after affordable price but are seeking for excellent technology, security, support, and many unlimited features.
The knowledge-base offered by InMotion is truly commendable along with the customer support that you get access to from phone, live chat, and email. The 90 days trial period is something you can take advantage of before committing to the web host all at once.
You can upgrade to various plans from as simple as Shared to as complex as VPS or dedicated servers as well. There are two data centers in the East and West part of the United States, however, there are no data centers outside of the US.
InMotion offers automatic backup and restore that allows you to have more control over your website. If you ever think of transferring your website then you do not need to worry about paying a fortune like other web hosts take as InMotion offers free site migration. 
Features 
Uptime: 99.95%

Speed: 824 ms

Customer Support

90-Days Money-Back Guarantee

Free Site Transfer
Delayed Verification Process
SiteGround
The best reviewed and a great fan base is what SiteGround is known for. It is the WordPress recommended web host and is built with different hosting plans.
Automatic updates, expert technical support, streamlined support, and many more are what you will be getting with this web host. The ultra-fast servers make this web host lighting fast and with different new updates, SiteGround will help in growing your website even more.
Although SiteGround offers different plans, its highest-tier shared plan, that is, GoGeek is what it is known for. GoGeek is equipped with an expert customer support team, Git repo creation, and a staging area.
The plans offered by SiteGround are helpful to a lot of small businesses and personal websites, however, if you want something more complex then SiteGround still has a lot to offer. 30 days trial period is also not the worse scenario as 30 days is enough to know if a web host works for you or not.
The customer service is provided 24/7 via phone, char, and email as well, also you can use its knowledge base if you ever encounter any problem.
Features
Uptime: 99.99%

Load time: 673ms

Good customer support

Free site migration

Free CDN and SSL on all plans
Higher renewal rates

Limited storage for the cheapest plan
GreenGeeks
GreenGeeks, as the name suggests, is an eco-friendly web host that uses renewable energy to power their hosting services.
It is the most popular green hosting company offering top-notch services to its customers. The WordPress plan is easy to use with 1-click WordPress install, and the auto-update is something to look for. GreenGeeks offers amazing plans at affordable prices which is enough to get started and work on your online business.
Security is one of the major concerns for GreenGeeks as you will get automatic daily backups and advanced security features. Working with the latest technologies helps to make your website faster and up to date and GreenGeeks works with technology like SSD, PHP7, CDN, and many more.
Phone, chat, and ticketing system will get you access to their exceptional 24/7 customer support team. If you are someone conscience about the environment, then GreenGeeks is what you should go for. With its green hosting and amazing performance, it might just be the one for you.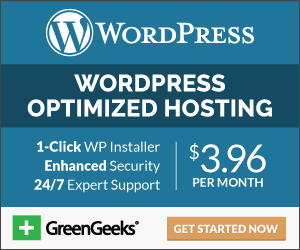 Features 
Uptime: 99.98%

Load Time: 445ms

Good Support

Free Domain & Site Migration

Environment-Friendly

30-Day Money-Back Guarantee
Higher Renewal Price

Questionable Refund Policy
Final Verdict
Finally, we reach the conclusion of what you should choose for your online business. Here, let me summarize what you should be choosing for what purpose. 
Bluehost- Best Overall Host
Hostgator- Amazing Dedicated Server Hosting
InMotion- Great for Shared and VPS Hosting
SiteGround- Amazing Customer Service
GreenGeeks- Green Hosting with ideal services